Virtual gallery of « dérangeables » polyptychs type QUADROTORRE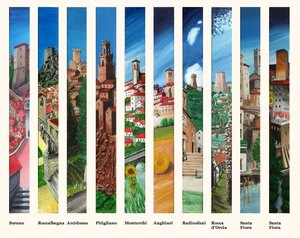 You will find here last creations of louis-garden :
The series Polyptychs derangeables type QUADROTORRE
These gatherings result from independant paintings (available individually also) created with the wire of the time and connected by their membership here at the same topic.
They are known as "derangeables" because an individual fixing makes it possible to rearrange them to obtain other configurations according to your moods and tastes personal.
Materials: acrylic painting on profiled hammered metal - element of 8 cm X 80 cm.
(The legends appearing under this elements are informative and are visible only for this numeric presentation. A cartel can nevertheless be envisaged and fixed in bottom of each element.)
Price list of the paintings available in my workshop. ___________